Join Yuanhang, Study Abroad!
This is TU Delft
姓名:
Casper Dek
年份:
2015年
学校:
代尔夫特工业大学
项目类别:
交换项目
Hi, I am currently an exchange student at Beihang University, originating from Delft University of Technology in the Netherlands.
Through this message I would like to introduce you all to my home university and country and encourage you all to go abroad on exchange to a foreign university.
Myself
I study

Aerospace Engineering

(AE) since 2013 and am currently in my last year of the undergraduate program. Next to my study I am active in my study society where we organize activities for our fellow students of AE, such as excursions, lunch lectures and CEO interviews.
I wanted to study AE since it is one of the most important engineering fields for our future; more and more people will be able to afford to fly all over the world (this is happening I Asia right now already!) and I think it is therefore important to design aircraft which are fuel-efficient to safe our planet, but still affordable for everyone. It is exciting to study and work on the edge of research, innovation and actual hands-on practice!
It is vital in an international field like engineering to be able to work with people from different backgrounds and cultures, to speak a common language like English and to be able to adapt to circumstances you're not used to as fast as possible
. These are all qualities you will learn, next to the academic experience through courses and projects of course, during an exchange. Actually, I am experiencing all of this right now at your university! This has now already been one of the most exciting periods in my life;

living in a different culture, learning how you think about subjects and to see your perspective on solving problems. I would therefore like to ask you all to consider going abroad and experiencing all of this by yourself!
Delft University of Technology
As I said before, I study and experience all of this at Delft University of Technology, which is one of the three technology-orientated universities in the Netherlands. It was founded over a 150 years ago and its' campus is situated right next to the historic city centre of Delft, in the heart of Europe.

It is ranked as the number 19 university for technology in the world by the QS and Times Higher Education rankings

because of its' research and teaching qualities and the international outlook of the university. With 16% international students (for the masters this number is 30% and for PhD students over 60%!), English masters and two English undergraduate programs international students are a vital part of the university. Furthermore,

90% of the Dutch population speaks English, which makes the

Netherlands a perfect place for international people to live and study! There are a lot of high-quality research facilities such as wind tunnels, a flight simulator, our own aircraft and satellite and a lot of labs.
Next to the normal studies,

Delft offers DreamTeams.

These teams of students from different studies work together on a project to build for example vehicles that participate in worldwide competitions. Famous examples are our NUON Solar Team, which build the winning car for a solar race through Australia several times, DUT Racing and some 20 other teams that work completely independent (without help of professors) on projects to achieve impressive goals.
In Delft teamwork, learning by trying and thinking out-of-the-box are important aspects of the way the courses are taught. Professors expect you to work together with your fellow students to come to the solution of a problem. Furthermore, instead of learning formulas by heart you will be encouraged to understand the material of the course to become a flexible engineer.
This way you will be able to solve problems you have never encountered, instead of reproducing what has been done before.
Teamwork in one of the project rooms at Delft University of Technology
There are several ways to participate in the educational programmes of Delft, such as a course-study during an exchange semester in which you will participate in the (English) courses of the regular students. Next to that you can apply to perform your PhD in Delft, or do your entire Master's (Graduate studies) in Delft. We offer

35 Master's programmes (all in English),

with subjects ranging from Computer Science, Wind Energy, Biomedical Engineering, Transport, Mechanical Engineering, Aerospace Engineering and a lot more.
We would be very happy to welcome you in our country and city, so please visit the websites stated beneath if you are interested in studying at our university!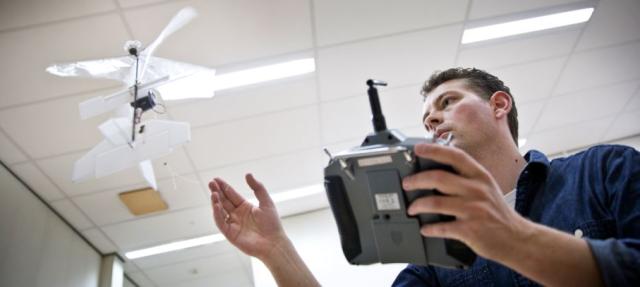 Delfly – the world's first flapping wing MAV to perform an autonomous flight
I hope you are all inspired by my story and are thrilling to make your own. Please don't hesitate to contact me my university if you have any questions.